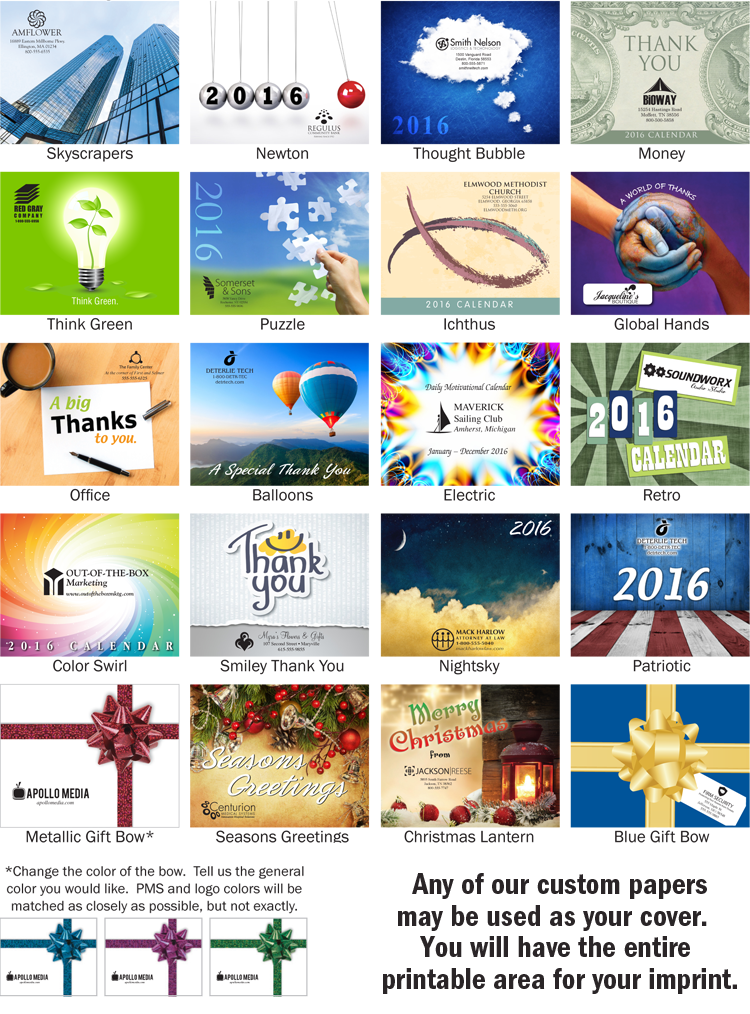 STEP TWO: Choose Your Background Paper
Dress Your Calendar with Designer Paper for 28¢(t) per calendar
Daily Impressions offers a choice of several background paper options to enhance the look of your calendar. With so many designs, it's easier than ever to match your content to our theme papers to create a truly original product. Any of these background options can be used as a cover design. If you choose a background design as your cover, the entire cover page is available for your black imprint.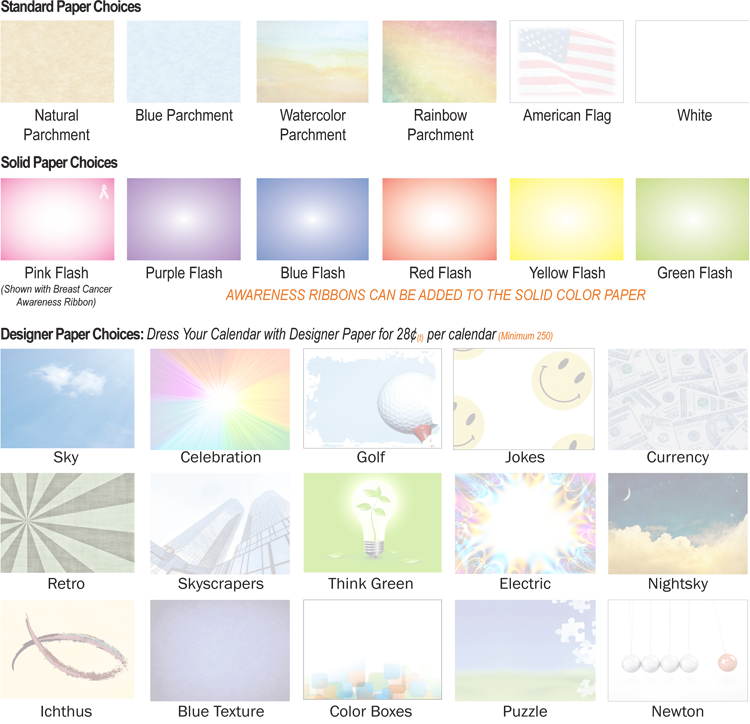 Want your own 4-Color Custom Background? Order now for only 28¢(t) per calendar plus $350 setup!
STEP THREE: Choose Your Daily Date Format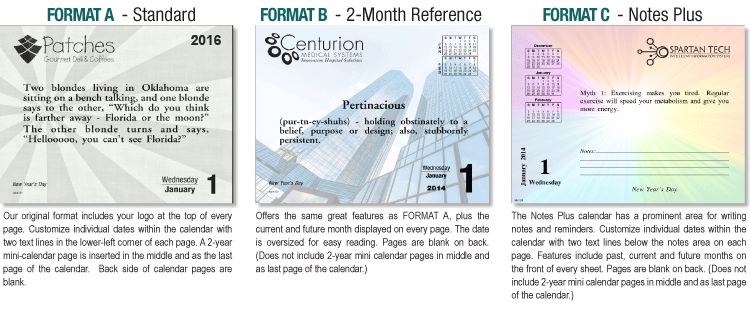 STEP FOUR: Choose Your Calendar Theme
These are our standard calendar themes - the center text changes daily.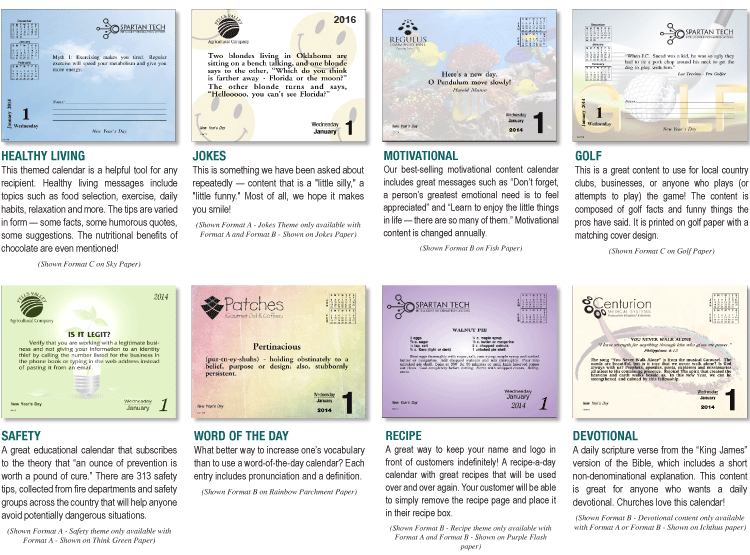 Get Creative! Make a Custom Daily Date Calendar Theme!
Order Code: P7500-CUSTOM
All of our calendar formats can be tailored to accept your own content. There is no run charge per calendar, only a setup fee. Simply submit your content in a PC text file and we will do the rest. Messages can include sales tips, satisfied customers' quotes, employee statements, academic facts, safety tips, product information, etc...the possibilities are endless! This feature requires a minimum order of 250 calendars.
Submit your custom theme with 313 of your personal messages in the order you want them to appear in your calendar for a $350.00(t) set up charge.
EXTRAS!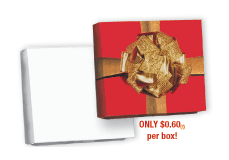 GIFT BOX DESIGNS
Our front cover designs were developed to give a polished look to the standard shrink-wrapped calendar. For those times when a more formal presentation is required, we have either a full-color gift box or a plain white gift box.
Gift boxes are available in any quantity. Simply specify which style you would like and
how many — we'll take care of the rest!

Available in "Red with Gold Bow" and "White."

Gift boxes are not available with Media Mail mailing service. Gift boxes are only
available for calendars with less than 320 pages. Gift boxes are shipped flat

FREE STANDARD CALENDAR STAND
All calendars come with a sturdy black polypropylene stand. The calendar will lie flat on any surface, or you may pull out the attached hinge on the back, and the calendar will sit at a convenient angle for easy viewing. The stands are recyclable.

MAILING SERVICES
Daily Impressions offers complete mailing and drop shipment services, offering you savings on delivery time and shipping charges, as well as saving you the hassle and expense associated with fulfillment houses.

Two mailing options are available: Priority Mail and Media Mail. We supply the mailing carton or corrugated mailer, apply your label, insert an optional letter or card (4" x 6" max. size), and mail the calendar. Postage is charged at actual cost. Postage rates subject to change.

Drop shipments in quantities of 50 or more pieces are free. There is an additional charge per location for drop shipments with less than 50 pieces.